Barrel & Comps
Welcome the Barrel & Compensator page for Heavy Metal.  We are making some changes to please stay tuned………..
My first compensator was for my AR10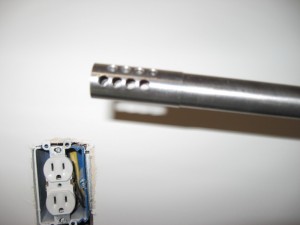 A very simple and effictive design. I don't have test numbers, but you can definatley feel the difference. When we get some spare time, we'll get the load cells out and do some testing. Hmmm, shooting at work, what a job!
We are currently working on the Tank Comp, just a big freakin comp for maximum reduction. These will be ready soon and will update page when they are done. We will offer custom barrel threading and installation. Stay Tuned!
Barrels: This is our first Tokarev AR Upper. Group was shot at 25 yards after we verified gas system worked properly. I tested some other things a week later and it held in the 9 ring at 50 yards. I have a 6″ steel plate at 135 yards and I was hitting that about 1/2 the time. Not bad for making my own reamer! We've got reamers on order, but I couldn't wait. Surplus Tok ammo is readily available and makes a great AR-15 package. We also just finished a 7 TCU upper with no gas system for a customer. Pull back only. Customer does a lot of handloading with light cast loads. Pics to follow.
We've got blanks and reamers for 7.62×25 Tokarev, 9mm, 10mm, 45 acp, 7 TCU, and a 338 variant we are working on. All barrels and uppers are made to order, so just let us know what you are looking for.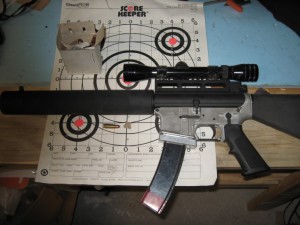 For more info please email me at getit@heavymetalco.com  or tim@heavymetalman.com
Thanks,
Tim Aberegg
Heavy Metal Group, Inc.
© 2019 Heavy Metal, Inc-All Rights Reserved