1977 XLCH Cafe
1977 XLCH Cafe – the real deal. Clean title, $10,000
This is the 2nd one I've had and I wish I never got rid of the first one…..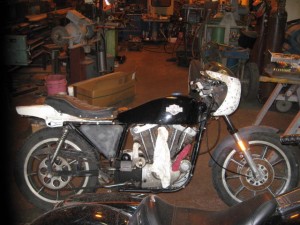 The guy I got it from was going to "customize" it and started by removing the wrinkle finish from the engine cam and primary covers, what a maroon….
Its all there except the original mufflers so we'll put it back to close to its original glory, but I might black it out a bit more. I don't know if it will ever be a true restoration but it sure will be fun.
© 2023 Heavy Metal, Inc-All Rights Reserved