AR Uppers
Heavy Metal has always done basic machining. We continue to update our machines and capabilities to add to the list of services for our customers. One area that we have on our "Special Projects" list is the AR- Rifle. Our cnc mill is up and running and looking for your special project!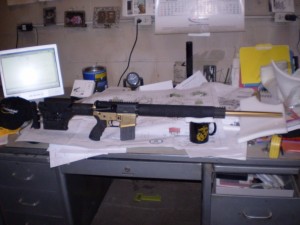 Scroll down and see what we have for sale……
Current list of project rifles/uppers:
.223 – now up to 4
6PPC (as pictured above) we now have the Shooter and the Match: Will build to suit – call for pricing
6×45 – easy conversion, was not that impressed with the set up I had and sold the barrel
6.8 SPC – Now I know what all the fuss is about. We've done a few. AR Performance are the people to see for barrels.
7.62 x 25 Tokarev – Thanks to Marty at Teppo Jutsu. Have built hundreds of these things, even after the ammo dried up. (But look at our new 30 Uzi)
7.62 x 39 Got a factory gun and accurate as hell. We don't chamber these…. Not for Sale
.308 AR10 – My whitetail sniper rifle Not for Sale
.308 DPMS SASS (wow, what a machine!) – Sold it for funding 🙁
9mm – Blow back – gas – piston. Now available in our bufferless upper!  Will build to suit
10mm – In Process
45acp – Did a piston version and got busy with other things
450 Bushmaster Hornady Reloading Dies: $50
7TCU Single Shot: Neat upper if you shoot the 7 TCU $300 ready to go.
300 BO 8″ SS upper Complete $450
300 BO 10″ CM upper complete $450
22 TCM, 22 Reeds Express, 22 UZ, 256 Win Mag, 257 ARS, 35 ARem – will build to suit
New/old wildcat – reamer made, blanks are here…..
50 cal Black Powder – Man, this thing gets some strange looks. Spare, spare time project. Uses brass case to hold the primers.
and the BIG GUN: 50 BMG – A Bohica Arms FAR50 upper, custom lower, PRS stock and 16x Super Sniper ! Visit our AR Page for details !!!!!!
© 2019 Heavy Metal, Inc-All Rights Reserved